This year, Elixir Technology is collaborating with our Japanese partner – Kokusai Kogyo Co. (KKC) to showcase our new products 'CXInsights (CXI)' and 'LBS Solutions' at the Techinnovation.
Our product, the CXInsights (CXI) is an indoor navigation mobile app with target advertising that aims to enhance the efficiency and effectiveness of Conferences and Exhibitions for both delegates and exhibitors. The mobile app uses the Location Base System (LBS) Solution to achieve high accuracy even within a small area.
The solution has 4 components:
Visitor and Exhibitor Profiling and Matching Interface
Indoor Navigation Mobile App with Target Advertising
Location Based System (LBS) with Bluetooth Low Energy (BLE) Mesh Network or equivalent
Analytics Dashboards and Reports for Organizers and Exhibitors
As most events already handle both visitor and exhibitor registration, our solution will interface with such backend system to extract the data, with the option to enter such data where needed. These form the basis for target marketing, where matching visitors walking by a relevant booth will trigger an in-app notification, allowing lesser known yet relevant products and services to be featured effectively.
Indoor Navigation addresses a common frustration for visitors in bigger event facilities. This incentivizes the visitors to turn on the mobile app, allowing the in-app notification of target marketing to work seamlessly in a non-intrusive way.
LBS can range from a simple BLE mesh network where each exhibitor gets a beacon to place at the fascia board of the booth to a multi-modal pre-installed LBS using a combination of UWB, WIFI and BLE to achieve higher accuracy with fewer dependencies on booth configuration.
Based on movement and interaction data, analytics insights can be provisioned through online dashboards or reports for event organisers on visitor profiling , e.g. quality visitors who interact actively with exhibitors vs free loaders who came for freebies. Similarly, exhibitors get a summary or real-time updates on their exhibition results, allowing them to improve their effectiveness and to follow up requests received.
Come join us at Marina Bay Sands on 19 – 20 September 2017 to find out more about how our products can help maximize your event experience!
Download CXInsights Brochure Here.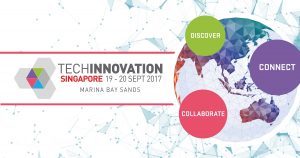 About TechInnovation
TECHINNOVATION is a premier technology-industry brokerage event organised by IPI Singapore for enterprises to: DISCOVER new technologies and innovative solutions to address their business needs, CONNECT and establish new technology and business partnerships, COLLABORATE to develop innovative products and services.