Elixir Technology Pte Ltd 毅昇科技
Headquartered in Singapore, Elixir products have been used in many organizations, both government and commercial, locally and internationally. Elixir provides Data Analytics implementation services for the entire lifecycle from requirement gathering to design and implementation, including quality assurance and subsequent warranty and support.
Elixir has participated in various Singapore's Smart Nation Initiatives involving Video Analytics, Big Data Analytics and Visualization, IoT Integration and Analytics, and Data Marketplace. Having completed several video analytics projects for urban mobility in human and vehicular analytics at taxi stands, bus stops and traffic junctions, as well as IoT analytics for smart energy management of data centre, hotels, and government buildings, Elixir is well-poised to become a leading tools and platform provider of next-generation Smart Solutions.
Elixir Ambience Low-Code Full Stack Tools & Application Platform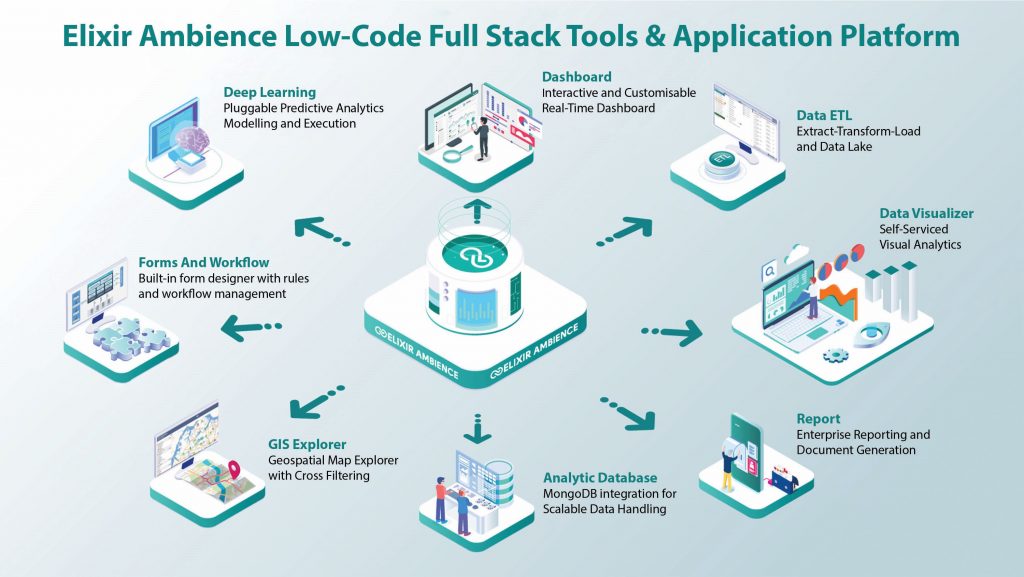 One key differentiator of this solution is its use of a full-stack analytics platform from Elixir Technology.  As a homegrown product, Elixir Ambience is designed for delivering production ready data analytics and deep learning solutions, with its pre-integrated set of analytics tools including Dashboard, Data ETL, Data Visualizer, GIS Explorer, Report, Analytic Database Data, API Management, and popular Deep Learning frameworks.
Supporting code-less approach, the platform can handle both structured and semi-structured data, batch or stream data, from ingestion to presentation with real-time refresh control. Designed for customisability and extensibility, new possibilities of data analytics and visualization can be easily added to the new system to enable more insightful and impactful data presentation and analytics.
这个解决方案的一个关键区别在于它采用了来自Elixir Technology的全栈分析平台。作为一款自主开发的产品,Elixir Ambience旨在提供适用于生产环境的数据分析和深度学习解决方案,其预集成的一套分析工具包括仪表盘、数据ETL、数据可视化器、GIS探索器、报告、分析数据库、API管理以及流行的深度学习框架。
该平台支持无代码开发,可以处理结构化和半结构化数据,批处理或流式数据,从数据摄取到实时呈现都能进行实时刷新控制。设计上注重定制性和可扩展性,新的数据分析和可视化可能性可以轻松地添加到新系统中,以实现更加深入和有影响力的数据呈现和分析。